CH Thornapple Pucker Up
"Pucker"
Red Merle Bitch * DOB 3/7/06
Sire: Ch Thornapple Aftershock
Dam: Thornapple Lizzie McGuire
Breeders/Owners - Ellen Brandenburg & Amy Garrison
Handled to her championship by Shayna Garrison & Amy Garrison
Pucker finished with 4 major wins!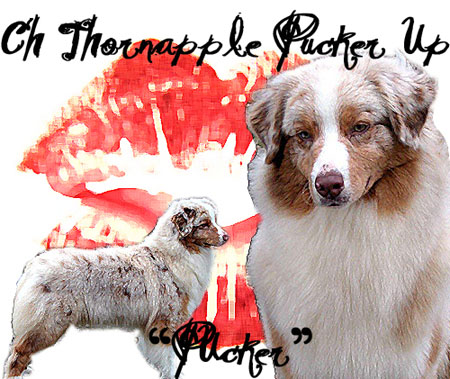 Artwork by Audrey Carter

Amy writes October 21 2009 -- Oh this doggie is so bad! She hates showing, baiting or doing anything associated with a leash.
It took FOREVER to take stacked photos of her....moves her feet - won't bait - looks the other way, etc....
So Shayna decided to make Pucker faces as well!


CH Thornapple Pucker Up & Shayna Garrison!


.... doing what Pucker does best!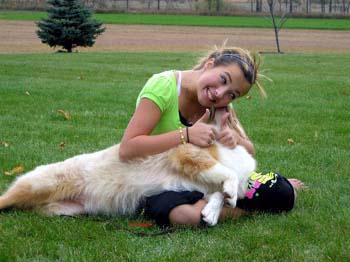 FINALLY Princess Pucker poses!


Marion Kennel Club * November 1 * Judge Mr. Robert Forsyth
major win * NEW CHAMPION * handled by Shayna Garrison


Sturgis Kennel Club * October 31 * Judge Dr. J. Donald Jones
major win *** handled by Shayna Garrison



4th Place Open Red Merle *** 2008 USASA National Specialty *** Judge Chris Walkowicz

Pucker's first major! Thank you Jon Cole!

Best Puppy in Specialty Show at the Canadian Shows October 15
Handled by Lyndsey Isley!

Best Puppy in Group * Canadian KC shows October 14

Best Opposite Sex * Winners Bitch * 1st show out @ 6 months!