Polish & Latvia & Lithuania & Estonian & Baltic & Slovenian Junior Champion
Polish Champion Thornapple Shakin All Over
"Slash"
Junior Baltic Winner 2008
Polish Junior Club Winner 2008
Best Junior Aussie & Best Male in 2008
Black Tri Dog * DOB 08/13/07
Sire: CH Thornapple Tandem Axel
Dam: CH Thornapple Russian ToA Party
Owned by Iwona Musial *** Warsaw, Poland
GALLERY 4
great Frisbee photos!

April 25 *** FRISBEE NEWS from Poland!!!!
April 28 *** Ania and Karol (Slash trainers) are in Germany (1700 km one way!!!) and yesterday they won 2nd place !!!!!!
Waiting for them to come back with photos :)))) Iwona
CONGRATULATIONS Iwona, Ania & Karol!!!


Slash loves agility on his days off from Frisbee!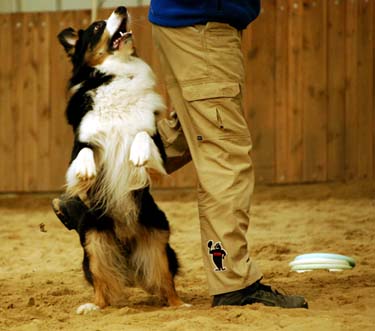 March 13 --- Last weekend Slash was on Frisbee seminar - he had a great time there :))))

working doggie!!!!


Here are pictures from his last competition which he ended on 14th place
out of 32 :)))) He is doing so good :)))


Also his jumping technique so really so good and effective - most dogs are
landing on back legs, Slash changing his body in the air and he is landing
on front legs, also he jumps very high so when he has his show mostly you
can hear from people around "wow... look how he is jumping.. " :)))))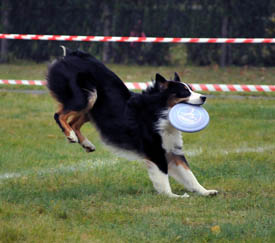 INCREDIBLE AS ALWAYS IWONA!!!!!!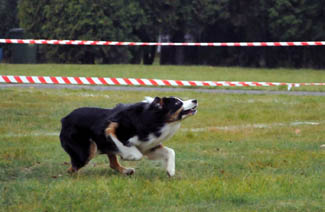 SUPER DOG!!!!


SLASH LOVES HIS BALL TOO!


SHAAAAAAKIN ALLLLLLL OVER!!!!!!!!!!!!!!!!!


DOG SHOW NEWS FROM POLAND!
This weekend was very successful for us. We were for 2 x national show in Marupe, Latvia.
1st day -- Casy (out of Thornapple Move Over) win her class got CAJC and she was
second best bitch!! Sheina won her class got CAC and become best bitch :)) she is from
now Latvian champion. Slash won class then become best male and won BOB then he
was 5th on BOG :)) With Junior handler Inita Cima - Latvia - they won first their class
then they won BEST JUNIOR HANDLER of the show !!!!!
2nd day -- Casy won her class and got CAJC and she was second best bitch again!!
(11 months girl with adult bitches :)) ) Sheina won her class and she was best bitch.
Slash won his class then he won best male in breed and finally he won again
BOB :))) this day he was shown by Inita Cima as she was showing him so perfect!
We couldn't stay for final competitions as we had to come back home.
I have a lot of good pictures also from the see side where we spend some
time but I will send them tomorrow as I have to go to sleep now :))) Iwona
CONGRATULATIONS Iwona!!!!


NEW FRISBEE PHOTOS! July 2009!
photo credits Iwona Musial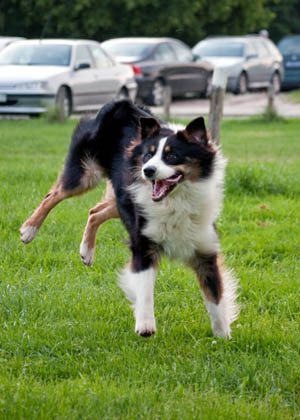 And when we are NOT at dog shows ... Casy & Slash duel it out while visiting the forest!


A face only a mother can love! :)))


A quick dip in the pool .....


..... makes for sweet dreams for Slash & Janis at bed time!

NEWS from Iwona & Slash in Poland!
May 31, 2009 *** Last weekend was for us wonderful!! At our international show in Leszno, Poland,
Slash - Thornapple Shaking All Over - won his class with CAC and in this moment he
became Polish Champion. He then won 2nd Best Male in Breed with Reserve CACIB
:))) our girl Janis - Easy Keep An Eye On Me - out of Thornapple Ragtime Blew My Mind
and CH Thornapple Dr Thunder - won her junior class for her last CAJC for
Junior Polish Champion and on the end she was Best Junior in Breed and the
smallest one Casy out of Thornapple Ragtime Move Over was shown in puppy
class and won Best Puppy in Breed - the judge was so in love with her :))) -
It was a great show for us :)) Iwona CONGRATULATIONS Iwona!


Thornapple Shakin' All Over "Slash"
Last Sunday we had international show in Poland and Slash got his CAC towards his championship!!
Slash needs 2 from national (1 he already has) and 1 from International show - what he has now :)) )
So now we need time (6 months) to finish his Polish championship which should be after 17th of May.
CONGRATULATIONS Iwona & Slash!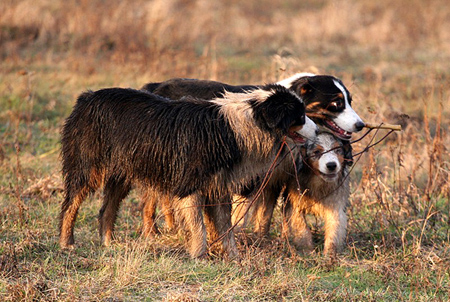 Fun in January --- 2009 --- Slash always finds the best branch!

pictured left to right --- Casy * Slash * Maris & Marko
GOOD NEWS!!!!
-- Quick report from 2 x cacib in Ljubliana --

January 17th 2009


Slash won his class with CAC so he opened his adult Slovenian
Championship and then Reserve CACIB :)) (2nd best male in breed! :)) )
Casy - baby class - very promising
(Casy is a daughter of Thornapple Move Over who is in Sweden)
Maris Best Junior in Breed! :)))
Sheina - won her class with CAC and reserve CACIB

January 18th 2009
Sheina - CAC CACIB Best of Bread :)))
Casy won baby class :)))
Maris - Thornapple America The Beautiful - Best Junior Female
CONGRATULATIONS Iwona & Marko of Croatia - proud owner of Maris!
Congratulations Iwona Musial of Poland on TOP RANKING Aussies in Poland!!!
Thornapple Shakin' All Over "Slash" is BEST JUNIOR AUSSIE of 2008 & BEST MALE!
Iwona's bitch, Sheina, takes top honors of BEST AUSSIE in Poland for 2008!
GREAT JOB Iwona! We are very proud of your accomplishments this year!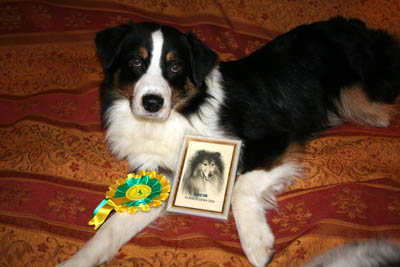 December 22 -- Ch Thornapple Shakin' All Over "Slash" shows off his CACIB!!!!
I'm so happy and proud of Slash from this show - both days were great for us!!!
1st day Judge Hans Eric Pedersen - Slash CAC and CACIB!!!!!!! It was his second show in adut class!!! and opened his INTERNATIONAL Champion!!!!
The Judge wrote:::: Maybe he is not in coat but his structure, proportions and movement it is enough to win with the dogs from open and champion class.
2nd day judge John Wels Ireland - Slash CAC
CONGRATULATIONS IWONA!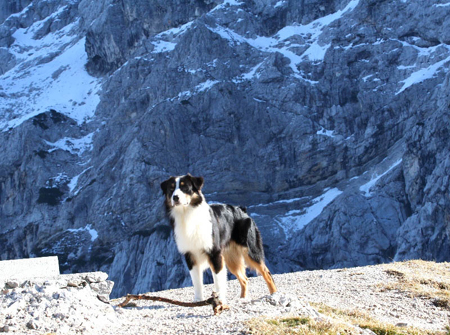 Slash visits the Alps! NO stick goes unturned when Slash visits a new country!
The branches in the Alps are especially nice!
It was not all play --- no work --- Slash and Sheina worked in a dog show along the way!
Iwona reports in a big wins in Slovenia - December 2008!
Last week we have spent in Slovania. We went there for two CACIB show where Slash twice won Best Junior in Breed
and in beautiful style finished his Slovenian Junior Champion. Sheina won twice best of breed and on first day she was III BOG.
Sheina and Slash also won II BIS in brace competition!!! On second day we haven't stayed for final competition because we
preferred to go for a walk in beautiful mountains Alps. We climb on 1780 m!!"
CONGRATULATIONS IWONA ON AN AWESOME SHOW & TRIP TO THE ALPS!!!


November 9, 2008 **** GOOD NEWS!!
Hi I'm still in beautiful Slovenian Alps but Slash is Slovenian Junior
Champion winning Best Junior in Breed two times!! (two times International
show) and Sheina two times BOB!!! More when we come back. Iwona
CONGRATULATIONS IWONA & SLASH!!!!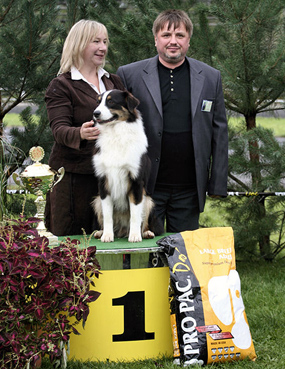 On 21 of September we had very prestige show - club show on which Slash won
BEST JUNIOR in Breed and at the end BEST JUNIOR OF THE SHOW!!! Iwona * Poland
CONGRATULATIONS on an awesome weekend Iwona!!!

ThornAPPLE Poster Dog!

GOOD NEWS from Iwona in Poland!
I just came back form Estonia national show (1900 km) but before I go to bed :)) I want to share with you my happiness.
I went the with my all aussies but especially for Slash and He made it!!! He won best junior in breed!! Second best dog in breed !!!!!
III place on BIS JUNIOR!!!!!!!!!!!!!!!!!!!!! and again :))) 1 Place in brace competition with Sheina!!!!!!!!! With this show he become Estonian
junior champion and BALTIC JUNIOR CHAMPION!!!!! (this title is for dogs who are have Lithuanian Latvian and Estonian Junior Championship :)) )
I'm very proud of him. Thank you for this beautiful dog with wonderful character!!!!! Iwona
SUPER CONGRATS IWONA! We are very proud of Slash!


August 13 * 2008 **** HAPPY BIRTHDAY SLASH!
Iwona takes time out from building her new home in Poland to prepare a special birthday treat for Slash & gang!

Iwona sends a 1 year old birthday update for Thornapple Shakin All Over!
)) another King of Kings - noisy Slash :))

Wulkan of energy :)) - Oh the temperament!!!! Unbelievable!!! And he is so happy fellow :))
This weekend we are going to Estonia for national show - there is 7 aussies entered - 3 mine :))
Slash (I'm going there only for him!) needs 1 CAJC - only 1!!!! to become Estonian junior champion
and become JUNIOR BALTIC CHAMPION!!!!! Also don't forget to add that he is JUNIOR BALTIC WINNER 2008!!
This is important title in this part of Europe!!! Also today I have entered him to our very important show -
Club Show 2008!!! in Junior Class!!!! we will also fight for very important title!!!
Next show will be in Budapest Hungary - European show!!
*** August 2nd 20008 ****
I just arrived home from 2 x international shows in Wilno, Lithuania
1st day judge Mr. P. Harsanyi (Hungary) Slash was Best Junior in Breed!!!!
Sheina CACIB - Best Bitch in Breed. 2nd day Judge Mr. Thomas Rolhin (Denmark)
Slash again best Junior in breed and got new title JUNIOR BALTIC WINNER 2008
and become Junior Champion of Lithuania!!! with wonderful way!! Sheina got CACIB :)))
Best Bitch in breed and BOB!!!! getting new title BALTIC WINNER 2008!!!! and now we
are very tired after long way going to bad :))) Iwona CONGRATULATIONS IWONA!!!


July 27th 2008 --- New Champion!
We are now in Ryga in Latvia for 2 x national shows. And yesterday Slash won best dog in bread competing with my Blue :))))
and he became junior Latvian champion. The best of breed was my Sheina who later won Best of group!!! Slash and Sheina
also were competing for best couple and they won 1 price!!! Today is second day but we are already very relaxed :))All the Best, Iwona
CONGRATULATIONS IWONA!
July 12th 2008 --- New Champion!
Last weekend (for 3 days) we had International Dog Show in Warsaw.
For first two days I was working on the ring with another judges as an
assistant. Wonderful experience. Today I was showing Slash in junior
class. The judge was Mrs. J-P Korozs from Hungary. Slash with today's
winning Best Junior in Breed to become Junior Champion of Poland!!! Iwona
CONGRATULATIONS IWONA!

CONGRATULATIONS Iwona Musial on Slash's placements at the World Dog Show!
3rd Best Junior Dog (20 juniors were entered) *** Aussie Specialty in Sweden
World show he was 7th Best Junior Dog (25 juniors were entered) *** World Dog Show in Sweden


I'm now in hotel in Latvia Ryga - on 2 x CACIB show in Ozolinki. Today's show was with nomination for Cruft!!!!
There was a show in open space and was raining all day!! The expert was Paivi Eerola from Finland. She was
judging Aussie Open special show for aussies in Finland!!! Slash was a winner in junior class and then he won
with champions!!!! as a best dog in breed!!!!! He finished 10 months yesterday!!! Sheina won Best bitches and Slash
won with her BOB !!!!!!!!!!!!!!!!!!! The judge said that he looks like 10 months old boy but he is so perfect!!!!! He has
nomination for Cruft 2009 !!!!!!! And I'm so happy that he was valued by such a a judge. Tomorrow is another show
but I'm so happy today !!!!! Iwona
HUGE CONGRATS Iwona!!!! Keeping it all in the family!
Crash won in Traverse City & his brother Slash won in Poland!


Bigger is better in Poland!

Live is GOOD in Poland! (yes ....there are two dogs swimming! Great photos, Iwona!)


Congratulations Slash on 1st place Brace!


Sunset on the way home from the dog show!


MUD PUPPY in Poland!



The swans are nesting in Poland! Hmmm funny Looking Swans!!!!

Slash LOVES life in Poland!!!!
Thornapple Shakin All Over *** BEST IN SHOW Puppy III in Poland!!!
National Show in Jarosław ** Poland ** Best Of Breed Judge Piotr Krol & Best In Show Judge Ewa Buklad
CONGRATULATIONS Iwona Musial & Slash!!!!!