AKC/New Zealand CH Thornapple Hot Temptation
"Zippo"
Red Tri Dog * DOB 1/10/04
Sire: ASCA CH Ragtime Light It Up
Dam: Thornapple Takes Control
Owned by Di & Alan Falconer * South Auckland, New Zealand
Zippo departed for his new home and family, in New Zealand, on March 31, 2005.
It's Christmas in March as Di put it! Thank you Di & Alan for loving Zippo!
Lot of hugs and kisses for our big beautiful boy! We will miss you, Mr .Zippo!
Zippo finished with 3 majors at 14 months of age!
First weekend out in New Zealand ... 2 best of breed wins!
And a Junior Group win!!! May 2005

Thank you Di & Alan for sharing your beautiful commissioned painting of sweet Zippo!


FEBRUARY 13 *** NEWS from NEW ZEALAND!
Attached are the win photos as promised for Zippo - I think he is looking
at his best and has matured into a stunning dog. We are so proud of him
and his children and Grandchildren are doing us proud in the show ring.
Love and kisses from Zippo and Nandi, Di
CONGRATULATIONS Di!


CONGRATULATIONS Di & Alan Falconer on RESERVE BEST IN SHOW in New Zealand!!
Zippo is owner handled by Alan Falconer! December 5th, 2008!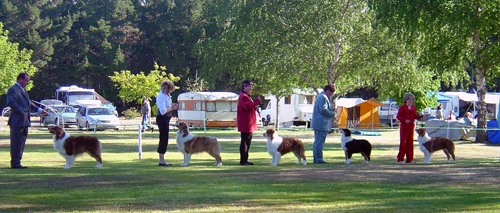 This past weekend was the show weekend where we had Roberta Campbell (USA) & Chris Walkowicz (USA) as 2 of the three judges.
Both of them are Aussie Specialists. Zippo got Best Of Breed with his son Chris taking Reserve Best Of Breed & Best Of Breed
with his daughter Roberta Reserve Best Of Breed. We cleaned up the whole weekend so we are really chuffed! Zippo and his kids
also won the Sire/Dam & progeny and we had 4 of his progeny there. Ann Hearn (USA) judged this class and commented on how
much alike they all are. What a compliment for Zippo! We only arrived home yesterday, totally exhausted, but very elated. Zippo
also won Group 2 over the weekend under Roberta who also placed his daughter in Group. She really liked our Aussies! Chris spoke
to us after she had judged and mentioned that the first Aussies that she ever put up Best Of Breed was a Thornapple win!
HUGE CONGRATS ON A JOB WELL DONE DI!!!!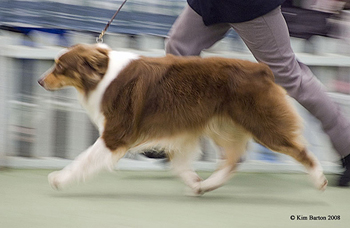 August 1st *** GOOD NEWS from Di & Zippo in NEW ZEALAND!!!!
Thought you might like a picture of Zippo. He won another Group 1 this weekend and went on to OPEN in Show
as well! He is leading the breed at the moment but it is still a long time till the end of the year. I will be sending
you some more photos of Denver (Zippo's son) who we took with us this past weekend. He won the other two
Best Of Breeds as well. Coralee is really thrilled with him too. The last photo is of Zippo, his son Denver & his
daughter Patsy. It is a nice group photo. Here's hoping this finds you well and recovered from your weekend
away. Kisses from Zippo & Nandi --- Di CONGRATULATIONS DI & CORALLE!!!!!!


Zippo's family & Zippo's son Denver!
May 4, 2008! BEST IN SHOW IN NEW ZEALAND!
Zippo" had a great weekend at the shows this past weekend. On the Saturday,
he got Best of Breed and GROUP 1 under Mr G M (Max) Winch from Queensland
Australia, and then on the Sunday, he once again got the Best of Breed and
GROUP 1, this time under Mrs Sylvia Gartner from New South Wales, Australia.
He then had General Specials where he went BEST IN SHOW with the judge being
Mr G M (Max) Winch. How great is that and so lucky that Mr Winch had liked
him the previous day as well. Allan is floating at the moment - it will
probably take him a while to come down to earth!
This win has jumped Zippo up in the points table a long way but to show you
how strong the aussies are in New Zealand at the moment, if you go to
http://www.dogzonline.co.nz/showdog2008/top50.asp?group=5 you
can see the ratings at the moment and have a look at how many Australian Shepherds
are currently in the top 50 of the working group around the country. You can
only get on this top 50 by winning a Group 1 or 2 and higher. There are 7
aussies in this top 50 at the moment. The awards are sure being shared
around the group. The OES that is leading at the moment is in the South
Island and has several BIS to its name - I gather a really stunning dog.
He is slowly rising in the breed scores however those breed scores are for
dogs beaten in the breed and Zippo did not have a lot of Aussie opposition
this weekend but he is getting there. We will keep him showing as long as
he looks good and a few more good wins and he will be leading I am sure!
Kisses from Zippo and Nandi, Di
HUGE CONGRATS ON AN INCREDIBLE WEEKEND, DI!



Ch Thornapple Hot Temptation "Zippo"
Attached are photos of Chelsea winning child Handlers with Zippo, Allan
winning with Zippo and Bronwyn winning with Nandi. The picture of me
winning on another occasion with Nandi is not a great picture so I thought I
would leave it out. After Zippo's BEST IN SHOW win at the weekend, I
thought I would send the photos as there are no win photos as the rain was
bucketing down and everyone was running for cover. A great pity but we are
hoping to take a photo at the shows in 2 weeks of Zippo and all his kids
being shown. The only one that will not be there will be Walka, the male
that we kept out of Coralee's litter to Zippo. Unfortunately we decided not
to enter him as his brother and sis would be there at the show along with 7
other aussies. Just no room in the car! Kisses from Nandi and Zippo, Di

Zippo Babies in New Zealand!!! Miss Mona is BEAUTIFUL!
Congratulations Coralee & Di on your darling Zippo kids!


Best Intermediate in Show * October 2006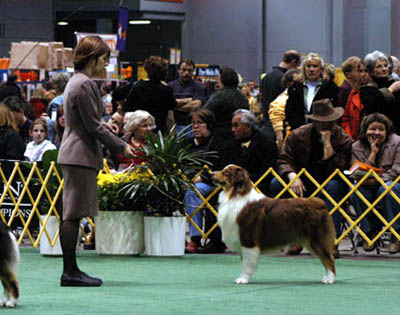 Zippo in sunny Florida!

Zippo with Maria Neff handling at the Brooksville Florida Clusters, January 2005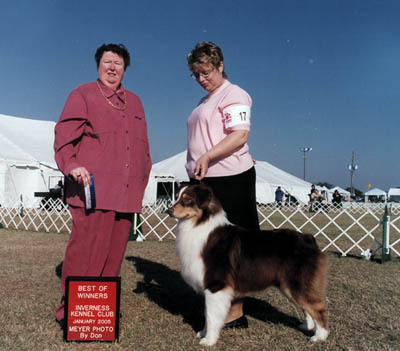 Best Of Winners * Brooksville Florida Clusters * handled by Coleen Zartman

Pat Stout handling at the Brooksville Florida shows, January 2005

photo taken September 10, 2004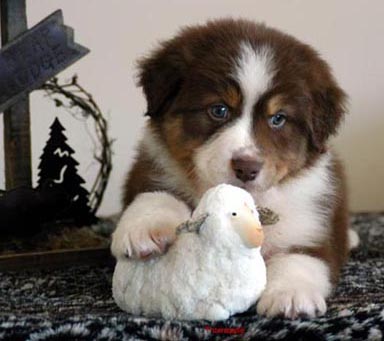 Baby Zippo!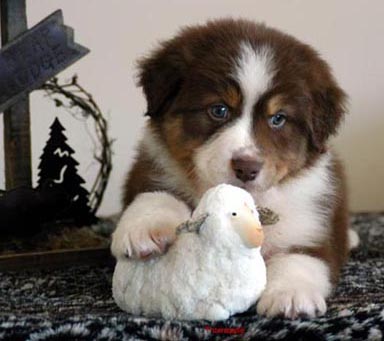 Zippo & Di * St. Clair KC * September 11, 2004