CH Ragtime's Where It's At
"Sway"

BACK TO BACK GROUP 1 WINS!! November 10 & 11, 2007!
Mrs. Betty Jo Patrick

Judge Mr. Kenneth Rayner
Blue Merle Dog * DOB 2/21/03
Sire: ASCA CH Ragtime's Light It Up
Dam: CH Thornapple Bedazzled
Bred by Summer Jewel Fuls, Ellen Brandenburg, Chelsea Brandenburg & Amy Garrison
Owner Handled by Megan Hoff * Allterrain Aussies
Summer Jewel Fuls * Ragtime Australian Shepherds

USASA Journal *** Jan/Feb 08
GOOD NEWS! --- March 4, 2008!!!
Sway was BISS under judge Chuck Trotter at the Front Range USASA Specialty on
Thursday Feb, 14th. I will have to check with Megan about the #'s I believe there
were about 14 specials? He was BOB (USASA Supported entry) and Group 3 on Sat
(Judge Dr. Ruby Hertz). The BOB and group 2 is from 2/9/08 at Chintimini KC also
under Dr. Ruby Hertz. He also was BOB & Group 3 at Orange Empire KC under Judge
Mrs. Lynn D. Peterson on 1/26/08 so he has been consistently going BOB at least once
a weekend and places in the groups every time he is BOB :))) I have attached a snapshot
that I took will send more later. Jewel CONGRATULATIONS Megan & Jewel!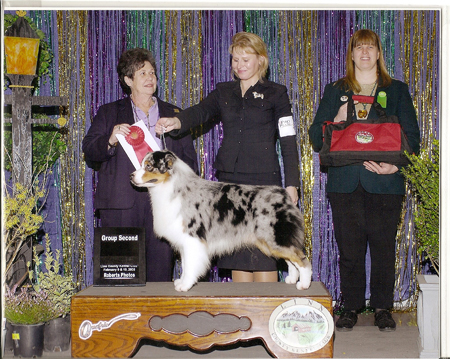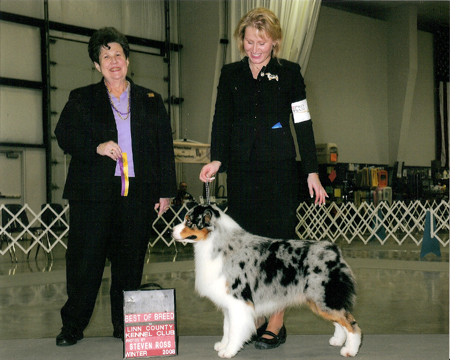 WHOOO WHOOO!!! GO MEGAN & SWAY!!!! ** November 10 & 11, 2007
Just wanted to let you know that Sway and I had a fabulous weekend; Back to Back Group 1ís!
Thanks to Mrs. Betty Jo Patrick and Mr. Ken Rayner for the breed and group wins.
As soon as photos are available I will send copies. Hope every one had a good weekend
at the shows elsewhere. Megan X Sway CONGRATULATIONS!! We can't wait for photos!
TOP 20!!! Invited to the AKC/Eukanuba Invitational!
Breeders Summer Jewel Fuls * Ragtime *** Amy Garrison & Ellen Brandenburg * Thornapple
The AKC/Eukanuba National Championship airs on Animal Planet & Discovery Channel on February 28, 2008.
Check your local listings for air times. For more information about the AKC/Eukanuba National Dog Show,
please visit www.topdogshow.com

BACK COVER * USASA JOURNAL * JANUARY 2008

Hot Off The Press!!! USASA Journal *** November/December 2007
ASCA/AKC CH Ragtimes Where It's At "Sway"
Breeders Summer Jewel Fuls, E Brandenburg, A Garrison, Chelsea Brandenburg
Ranked in the TOP 20 Breed standings! Invited to the Eukanuba National Dog Show!
Watch for Sway in Long Beach on December 2nd!
GOOD LUCK MEGAN & SWAY!

Good Morning! Good News this past weekend Richland K.C. ** September 30 & 31, 2007
Sway is Best of Breed both days under judges Nancy Schaffer-Smith and Francine Schwartz.
Sway has qualified for the Eukanuba Classic and is currently # 13 in breed points as of the end of
September. Hope you all had a nice weekend and will talk to you soon. Megan x Sway
CONGRATULATIONS, MEGAN & SWAY!!!! WAY TO GO!!!!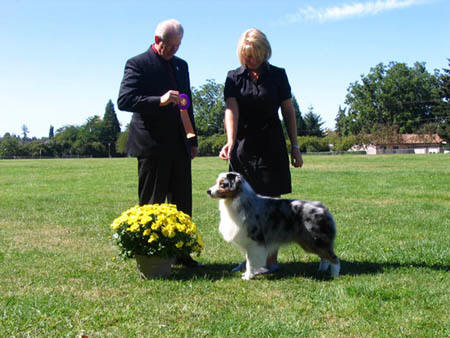 Here are some pics from this weekends ASCA shows. Northwest ASC Monday 9/3/07 ( the only day he was shown)
Sway was BOB at both shows under AKC judges David Calderwood & Denise Reel.
Top photo - "SWAY" won The American Bred class at both the ASC of Arizona
and the Feather River ASC Preshows to the 2004 ASCA national
Photo below - 5 pt major ASCA 3/20/05 WD, BOW & BOB over multiple specials.
Thank You Judge: Carol Price-Miller

Grandma Ellen & Auntie Amy, Our little baby "Sway" -- Ch Ragtimes Where It's At
has started his adult specials career off with a bang and after only 3 weekends out is ranked #5
in the Canine Chronicle standings and is also on the invite for the 2007 Eukanuba Classic.
We are doing our strategic planning and sending him out with John & Tammy Wilcox the weekends
Megan cannot take time off work :))) We are putting together ads and crossing our fingers :)))
TTYL, Jewel http://www.geocities.com/ch_ragime_aussies/Ragtime.html
Congratulations, Jewel!