CH Thornapple King Of Stars
"Sirus"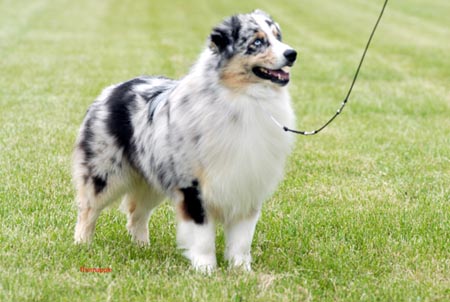 Blue Merle Dog * DOB 4/16/06
Sire: CH Thornapple King Of Diamonds
Dam: CH Thornapple Starry Eye Surprise
Owners Federico & Eleonora Masi *** Italy
January 2010 *** Congratulations Federico & Eleonora on your gorgeous new boy! ele.masi@mid.co.it
Thank you Roberto & Anabel for your excellent presentation in Spain 2008 & 2009! www.legendcontinues.net

Owners/Breeders: Victoria Davidson, Amy Garrison & Ellen Brandenburg
Breeder/Owner Handled by Victoria Garrison
CERF - AS-8884/2008--24
Eye cleared in Italy January 2010
OFA Hips - AS-24555G24M-VPI
OFA Elbows - AS-EL3073M24-VPI
OFA Patellas - AS-PA256/24M/P-VPI
OFA Heart - AS-CA182/24M/P-VPI
Sirus is standing in Italy & available to approved bitches.
Frozen semen also available.

BEST OF BREED * Group 3 FIRST weekend out in Italy! WAHOO WAHOO WAHOO! :))
HANDLED BY HUGO QUEVEDO A. Of Norway
January 23 *** Today the first day of show...Sirus and Hugo were wonderful!!!
(Hugo is a very splendid person and very able on grooming and handling)
1exc in the class, we took CAC and Reserve CACIB ** I'm very very happy!
I attach you a photo. Tomorrow new round I will write you again obviously!!

January 24 *** Today fantastic day for Hugo and Sirus!
They won CAC, CACIB, BOB and 3rd in the group!!! We are very very happy!
I wrote also to Bitta to thank her for recommending we call Hugo.
He is a very very professional handler and groomer! Ciao Ciao Eleonora
CONGRATULATIONS Federico & Eleonora!!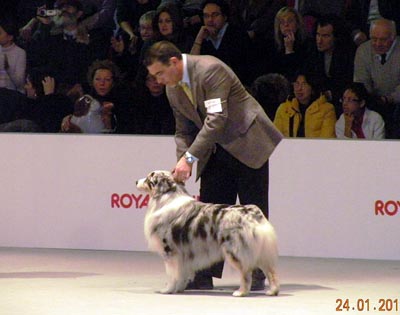 Sirus pictured in Group competition with professional handler Hugo Quevedo A.



January 31, 2010 *** We just arrive back from Padova. Sirus won all again!!!
Saturday he win CAC and reserve of CACIB!!! Sunday BOB of speciality.


patiently waiting for the big debut in Italy!

CONGRATULATIONS Federico & Eleonora Masi on your gorgeous new boy!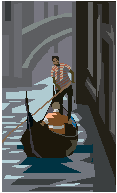 Sirus daughter Ch Thornapple Imaganiff "Sookie"
Sookie finished her AKC championship at 14 months of age!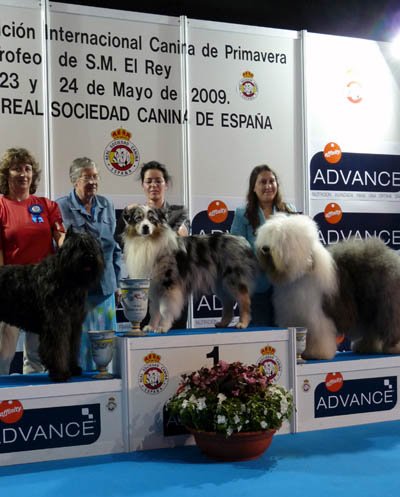 May 24, 2009 *** GREATEST NEWS from Spain!
INTERNATIONAL DOG SHOW *** MADRID SPAIN *** 3000 dogs entered!!!!
Ch Thornapple King Of Stars Best Champion * Best Dog * Best Of Breed * BEST IN GROUP!
Extraordinarily handled by Anabel! Ana & Sirus ..... GREAT TEAM!
Legend Continues Kennel * www.legendcontinues.net


CONGRATULATIONS Anabel & Roberto!
We are very proud! Thank you!
And SUPER CONGRATS ON ANOTHER BIG WIN!
May 31 *** National Dog Show *** Amurrio Spain *** BEST OF BREED * Reserve Best In Group!


March 16th 2009 *** GOOD NEWS!
We've been all this time without a Sirus at exhibitions, because I've been sick with a back problem, and I could not move.
I'm better now and last night February 22 I went to the International Exhibition of Valladolid where Sirus came into to get
the best of breed. Congratulations! We believe he has matured and is very beautiful, so charming ......... enjoying a lot with.
We send you some pictures so you can see like this. Greeting! Anabel
CONGRATULATIONS & Thank You Anabel!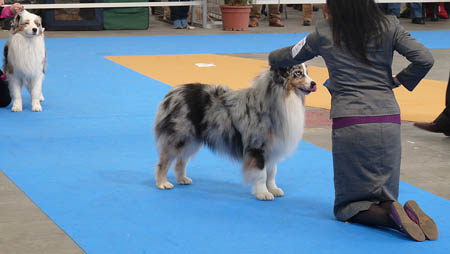 Sirus reports in November 30th, 2008!
I am SIRUS! I am VERY HAPPY with my new parents & my new Siberian Husky brothers!
We have made a few pictures in the garden but too bad weather! All day it is raining & snow is coming out!
ME & the NEW hair! GREETINGS TO ALL IN THE USA! Ch Thornapple King Of Stars!
...... ME AND THE NEW HAIR .... . GREETINGS TO ALL IN USA


In Spain `have ended the summer exhibitions and over again have started to be conducted in closed, at last without the sun
and heat for the dogs. This weekend was the International Exhibition of Leon and Sirus although still not in good condition hair
has been BOB and 2nd in the group. We send a photo in the next few days we will send you some more of the podium.
Congratulations! Anabel & Roberto LEGEND CONTINUES KENNEL


June 22nd *** NEWS from Spain .... Best Of Breed and a Group Placement for Sirus!
We have just returned from the international dog show Medina de Pomar and Sirus has succeeded BOB and
3rd place in the group. Congratulations and greetings. Anabel LEGEND CONTINUES KENNEL
www.legendcontinues.net

FLASH
BEST IN SHOW 3
1ST WEEKEND OUT - May 5, 2008!
BIG NEWS FROM SPAIN May 24th!
Hello Ellen and Amy .................. wonderful news from Spain EXHIBITION Madrid International "3500 dogs."
The most important of Spain this time of the hands of Anabel .............. SIRUS ......... BEST CHAMPION .
Best Male Absolute and Best of Breed!!!!!!!! The afternoon ranked among the top five in the group.
I will send you photos this afternoon that we made some friends and we took many dogs and was
virtually impossible to take pictures. In the entries had several champions Americans imported from USA.
A GREAT Expectations in Spain ........ A greeting. Roberto & Anabel
Great Job! We are very proud of Sirus!

Ch Thornapple King Of Stars "Sirus" *** Best Of Breed * Group 1 * BEST IN SHOW 3 in Spain * 1st weekend out!
CONGRATULATIONS, Roberto & Anabel Toribio!