Thornapple Diamond In The Clouds HT
"Cloud"
Blue Merle Dog * DOB 8/21/06
Sire: CH Thornapple King Of Diamonds
Dam: CH Thornapple Russian ToA Party
Owner * Betsy Hamkens * Manden, North Dakota

Congratulations Cloud on making the cover of J and J Dog Supplies!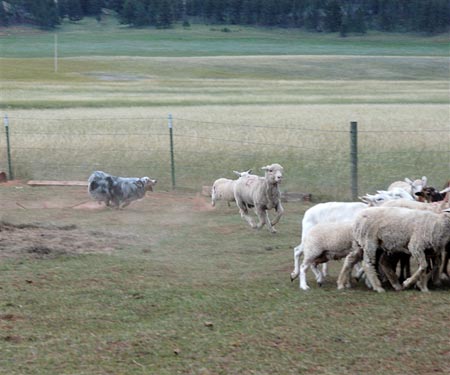 HERDING INSTINCT TESTED ... NEW TITLE October 20, 2008!
Pictures from Betsy!
Couple pictures taken on some of the many many different obstacles that the UKC offers that are different than AKC.
The only AKC piece in this group is the triple jump. I have Rain entered in August for UKC in Iowa but am training
Cloud on some of the obstacles also. He needs to stay busy, very busy:)))) Betsy

PHOTO AWARD FOR BETSY! December 2007

Just a couple pictures of Cloud on his first birthday, in front of an apple tree, but where else for a Thornapple kid, and of Rain doing weaves.
These were quite a feat to take since I was doing them alone and Cloud sometimes does not understand the concept of STAY and Rain to come
to me doing weaves while I am trying to focus a camera at the other end of the poles, but I guess that is a good thing for him to weave without
me beside him. LOL And with all that going on and all the apples on the ground, which draws the wasps, I was stung in the thigh. That was
interesting trying to continue taking pictures and the feel of the sting:((((( Thanks for allowing me to share, Betsy

I have been experiencing some wonderful and different things about Cloud. Just a couple examples:
He is so very smart and does not miss a trick. I know the aussies are all smart but I mean in a very
different way with Cloud. He sees things that the others miss, and yes, even my "Golden Child" Rain:))))
misses. He is going to be a grand obedience dog since he is so attentive to me, wants to work with me and
is aware of other dogs around him but does not have the overwhelming desire to check them out which in
obedience competition is a great asset when you are trialing in a crowded area. When all four aussies are
out in the yard, it is Cloud that is so very interested in being with me the most and wanting to work for me.
He is a keen retriever with endless energy. He has a lot of power and speed and a long stride which he uses
and covers ground effortlessly. When he plays, sometimes he lays on his back and uses his front paws to hold
his toy or chew like we would with our hands. He also uses his front paws to bat things around like a cat would.
He uses his nose like a shovel and pushes toys all over the ground. Apples, sticks, balls, field bumpers anything
he is playing with he will push with his nose. One last thing he does is when he comes out to play he sometimes
does turns like a cutting horse does, wheels around on his back legs and has a toy in his mouth which he whirls
like a shot put.He twirls around with all four feet off the ground and changes directions in a heartbeat.
October 2007 ** Betsy