Sire: ASCA/UKC CH Mandolyn Shake And Jake CD,CGC,RN,RA,RS-N,JS-N,NAP,NJP,
FD,FDX,FDCH-S,FDCH-G,FDCH,HCT-1,DNA-VP (AKC major ptd/2 legs ASCA CD)
www.mercuryaussies.com
Dam: CH Thornapple Straight Up
Owner Eileen Kosakwoski * The Woodlands, Texas
Breeders Ami Boxer Mercury Australian Shepherds * Amy Garrison * Ellen Brandenburg
CERF Normal - October 2, 2007
PHOTO GALLERY

http://www.mercuryaussies.com/ice.html

"Ice" and Eileen Kosakowski had their obedience trial debut on March 6, 2010. Ice was entered in Novice A.
He and Eileen went on to take home High In Trial - All Breed and High In Trial Australian Shepherd! This was at the College Station, TX - ASCA show.
Ice needs two more legs to complete his ASCA CD title. Ami Romanelli, Esq.
CONGRATULATIONS Eileen & Ice!


Ice is gearing up for his first DockDogs Tournament next weekend in Texas! He is getting some great air.
No better dog sport in the heat of the summer than DockDogs! Ice and Eileen also finished their Rally Advanced
title last weekend! So now he has 4 titles! Owned/Trained by - Eileen Kosakowski (Arctic Australian Shepherds)
Ami Boxer, Esq. Mercuryaussies@yahoo.com
WAY TO GO ICE! GOOD LUCK in your BIG tournament!


March 23,2009 (ASCA/UKC CH Mandolyn Shake and Jake CD CGC RN RA NA NAJ OJP NJP NFP PS1 PJ1 RS-N GS-N
JS-N JS-O FD FDX FDCH-S FDCH-G FDCH HCT-1 DNA-VP x CH Thornapple Straight Up DNA-CP)
New photos of Ice at 19 months! Ice and Eileen have a busy 2009 show and trial season coming up. They have their first ASCA agility
trial at the beginning of April. In addition to agility, Ice and Eileen are continuing their obedience/rally and conformation in all venues.


Belton Texas AKC Obedience Trial
Ice & Eileen placed first in Pre-Novice with a score of 149 out of 160!
The judge remarked that Eileen has a great dog. Ice held his stays & did a wonderful front after the recall.
In Rally Novice Ice was very good taking 3rd place team out of 14 teams!
CONGRATULATIONS ICE & EILEEN!


July 27th 2008 *** NEWS FROM AMI ROMANELLI!
BIG CONGRATS to Eileen & Ice --- Thornapple Mercury Arctic Shake CGC RN --- on the completion (in 3 runs)
of Ice's Rally Novice title. Ice is not yet a year old & is Eileen's first obedience dog! They are off to a wonderful
start! Keep those qualifying scores rolling in! Ami
Calcasieu Kennel Club, Inc. - Saturday 06/07/08
Judge Mrs. Bettie L. Krause
Big congratulations to Eileen Kosakowski and "Ice" for taking Winners Dog/Best of Breed Puppy
and then on to a Herding Group 3 under Judge Mrs. Michele L. Billings!
We are very proud of Ice! Nice job Eileen!!!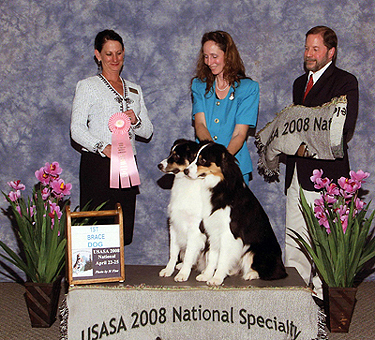 Judge Pam Levin
This weekend Ice took a break from looking stunning in the conformation rings to prove he has the brains as well.
Ice and Eileen successfully completed the requirements to achieve his Canine Good Citizen CGC title today at just 7 months old!
Eileen says he is a quick study and taking to performance work like a fish to water. Now he is Thornapple Mercury Arctic Shake CGC.

Eileen is showing Ice at USASA Nationals. In addition to the regular and sweepstakes classes she is entering in Brace with another Jake son! I am so excited.
Ice looks nice in the ring... now he just needs to stop the super wiggle butt routine! Ami
SHOW NEWS
November 25, 2007 * New Hope ASC, Texas
Ice attended his first ASCA puppy show and had a blast. On Sunday he took a 2nd place
in the 2-4 month class behind the Best of Breed Puppy for that day! Way to go Ice and Eileen.
February 16-17 2008 * Texas, AKC
Ice had his debut in the 'big boy' classes this weekend on the Texas circuit. He won his class
both days with competition and Eileen reports that he was 'in his element' and he really shined
on his down and backs! JUDGE: Ms Gloria Kerr (Sat.) and JUDGE: Ms Marcy R Spalding (Sun.).
Ice and Eileen plan to compete in multiple venues including, conformation, obedience, agility, dock
dogs, herding, and flyball. Ice has incredible ball drive and is excelling in his puppy agility classes
and learning the ropes in both ASCA and AKC show rings. Watch for Eileen and Ice at USASA 2008
Nationals in the 6-9 month class.